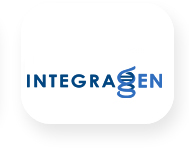 IntegraGen is a French leading lab in cutting-edge technologies (high-throughput sequencing in particular) combined with the industrialization of processes including design of studies, sample tracking, bioinformatics analysis tools. In addition to its headquarters based in Evry, IntegraGen has installed two internationally renowned sequencing units in Gustave Roussy and Pasteur Institute.

Bérengère Génin
Bérengère Génin is the Director of Bioinformatics at IntegraGen since 2010. She provides her expertise in bioinformatics to IntegraGen genomics activities by performing analyses and development of web applications adapted to the need of researchers and clinicians in the field of SNPs genotyping and high-throughput sequencing. She began her career at Sanofi in 2002, where she worked for eight years as a bioinformatician at the Centre de Génomique Humaine in Evry. She was also responsible for the bioinformatics project at the Centre de Pharmacogenomics de Génome Québec and the Montreal Heart Institute in Canada. Bérengère Génin holds a DESS in Genetics and Bioinformatics.
Role in RHU COSY
IntegraGen will contribute to the search for novel genes causing Overgrowth syndromes (WP2) by performing somatic variant calling and deep whole-exome sequencing (WES) to identify somatic variants in new genes without a priori on their function.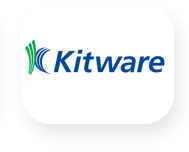 Kitware SAS is a software research and development company with headquarters in Villeurbanne, a subsidiary of Kitware Inc., with headquarters in Clifton Park, NY. Kitware's mission is to create, maintain and service open-source software, and to create proprietary products on top of that software. The company has made a worldwide impact on the well-known Segmentation and Registration Toolkit (ITK), The Visualization Toolkit (VTK) and CMake.

Julien Jomier
Julien Jomier is CEO of the European subsidiary of Kitware SAS where he focuses on European business development. Julien received both his B.S. and M.S in Electrical Engineering and Information Processing in 2002 from the ESCPE-Lyon (France) and an M.S. in Computer Science from The University of North Carolina at Chapel Hill (UNC) in 2003. He worked on a variety of projects in the areas of parallel and distributed computing, mobile computing, image processing, and visualization. As a developer of the Insight Toolkit (ITK), Mr. Jomier was involved in applications for stereo reconstruction, model-to-image registration, and vessel analysis. His main areas of research include image-guided surgery and multimodality data fusion as well as computer-aided diagnosis. He is also a main developer for the Image-Guided Surgery Toolkit (IGSTK) and continues to support the Insight toolkit. Prior to joining Kitware, Mr. Jomier was a Faculty Research Lecturer of Radiology at the University of North Carolina and a member of the Computer-Aided Diagnosis and Display Laboratory.
Role in RHU COSY
Kitware will develop novel software algorithms for the segmentation and quantification of drug response and/or surgery from digital imagery in WP6.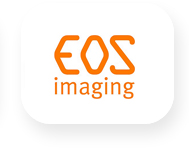 EOS imaging is a global medical device company that designs, develops and markets innovative, low dose 2D/3D full body and weight-bearing imaging, rapid 3D modeling, web-based patient-specific surgical planning, and integration of surgical plan into the operating room that collectively bridge the entire spectrum of care from imaging to post-operative assessment capabilities for orthopedic surgery.
Elisabeth Soubelet
Elisabeth Soubelet is Chief Medical Officer, head of partnerships and innovation at EOS Imaging. She leads the clinical affairs department, conducting clinical research with worldwide renowned musculoskeletal radiologists and orthopedists. She also drives the innovation roadmap, to explore future technologies or medical fields in partnerships with academic laboratories.
Role in RHU COSY
EOS imaging will develop new tools to monitor in 3D growth and bone deformation at very low dose of radiation. EOS imaging will also explore new imaging mode to characterize and quantify bone and soft tissues composition.